Marrakech – Essaouira
( Private Day Trip )
From: €180.00 ( price for two people )
Leave behind the hustle and bustle of Marrakech and discover the magical coastal town of Essaouira on this private, full day tour.
Description
Located by the Atlantic Ocean, Essaouira is about 2.5 hours drive away from Marrakech and is an exceptional example of a late-18th-century fortified town which over the years has been subject to Berber, Portuguese, French and Jewish influence.
Today this enchanting town, once known as Mogador, is loved for its relaxed atmosphere. Its lively blue and white medina is easily navigable and is flourishing with coffee shops, small boutiques and art galleries and since 2001 it is a UNESCO world heritage site.
The natural harbour of Essaouira, is filled with colourful boats decorated by local fishermen. It was the most important trading port of Morocco between Africa, Europe and the Americas until mid 19th century and gold, ivory, spices and slaves once moved through these waters.
Essaouira and its nearby beaches are also Morocco's prime wind and kitesurfing destinations and since 1998 the internationally renowned Gnawa Festival has been held in June in this picturesque town.
Included
Accommodation pick up/drop off
Transportation by spacious and comfortable 7-seater vehicle English/French speaking driver
Complementary small water bottles in the car
Free time to see the city waterfront, its historic centre or relax by the beach
Not included
Lunch, but you can choose from plenty of local restaurants serving delicious seafood
Entrance fees to local attractions/museums/historical buildings
Local guides
Tips
Additional information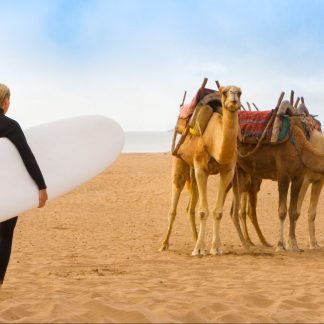 You're viewing: Marrakech – Essaouira
( Private Day Trip )
From:

€

180.00

( price for two people )
Read more