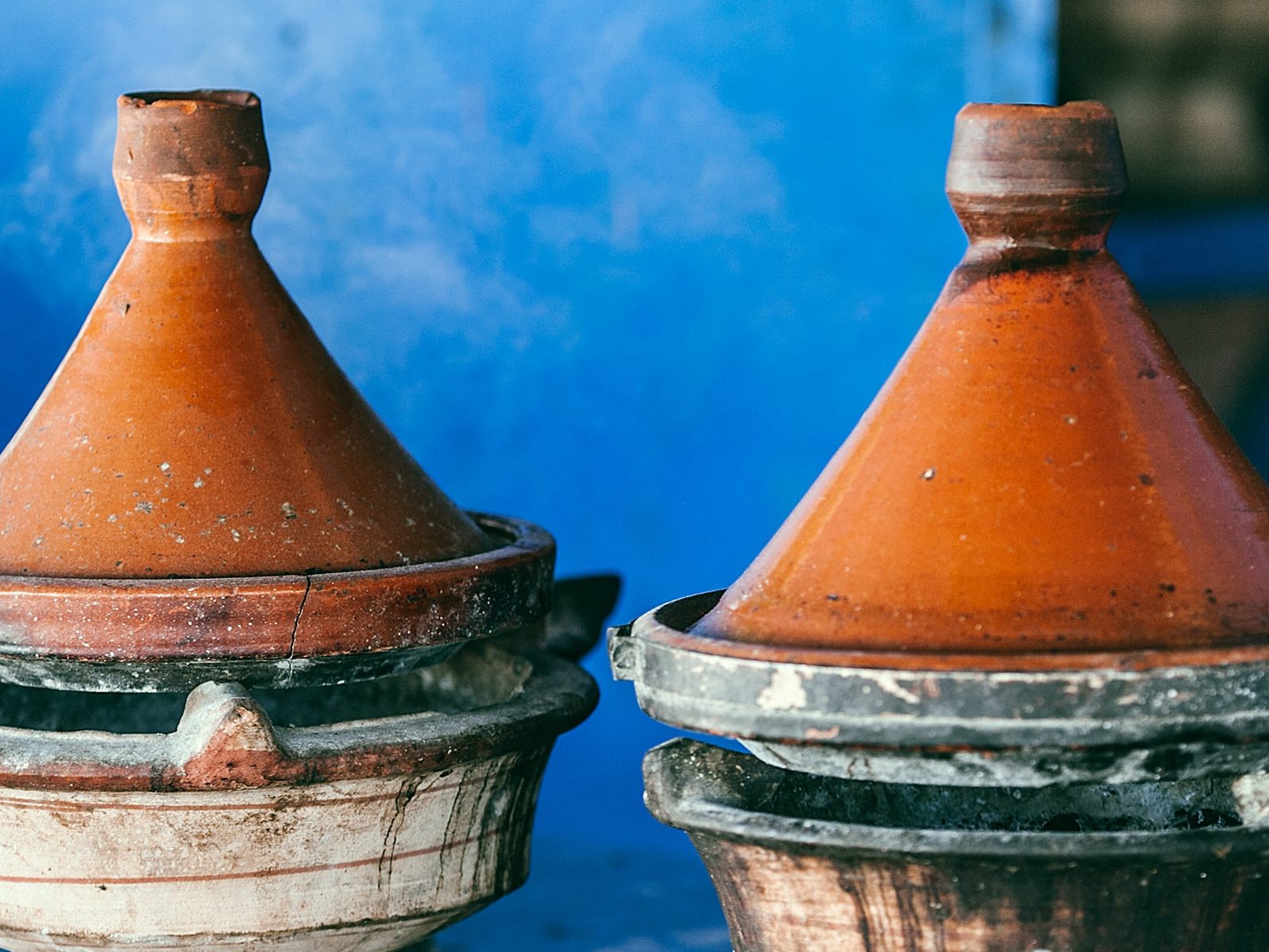 Moroccan cuisine is one of the most underrated cuisines in the world. It's packed with flavour and incredibly diverse. If you're looking to try something new, Morocco is a great place to start. Here are the top five Moroccan foods you need to try in your lifetime (in our opinion).
As someone who's travelled to Morocco multiple times, I can attest to the fact that the food there is some of the best in the world. Whether you're looking for flavorful spices, fresh seafood, or sweet and sticky desserts, you'll find it all in Moroccan cuisine.
Here are five of the best Moroccan dishes that you absolutely need to try in your lifetime:
Tagines
The Moroccan tagine is a delicious, fragrant, and healthy dish that is perfect for any occasion. A tagine is a stew that's cooked in a special pot with a conical lid. The lid helps to trap in all the flavours and aromas, resulting in a dish that's packed with flavour. The tagine is traditionally cooked over a charcoal fire, but can also be cooked on a stovetop.
There are all sorts of different tagines, from chicken tagines to vegetarian ones. And the best part is that they're relatively easy to make. So if you're looking for a new culinary adventure, why not try your hand at making a Moroccan tagine?
Couscous
This North African dish is a staple in many homes. It is a quick and easy meal to make, and it is very versatile. You can serve it with chicken, fish, or vegetables.
This traditional dish is made with semolina wheat, vegetables, and spices, and can be served either as a main course or a side dish. couscous is a great way to add a touch of flavour to your meal, and can be made in advance and reheated when you're ready to eat.
Couscous is a great way to get your grains and vegetables in one dish, and it is also very budget-friendly.
Harira soup
This soup is perfect for a winter night, but I would have it anytime. It's hearty and filling, but still light enough that you won't feel weighed down. The best part is that it's packed with flavour – you'll never get tired of this soup!
Moroccan Harira soup is a traditional soup made with lamb, chickpeas, tomatoes, and a variety of spices. It's perfect for a winter night, and it's sure to warm you up from the inside out. So if you're looking for a soup that's both delicious and nutritious, look no further than Moroccan Harira soup!
Pastilla
Moroccan pastilla is a traditional dish that is both delicious and beautiful to look at. It's made with delicate phyllo dough filled with a spiced chicken or fish filling, and it's often served with a sweet and tangy dipping sauce. This dish is perfect for a special occasion, and it's sure to impress your guests.
If you're looking for a new and exciting recipe to try, look no further than Moroccan pastilla. This dish is sure to delight your taste buds and leave you wanting more.
Kebab
This Kebab is a popular dish in Morocco. It is made of lamb, beef, chicken or, why not, fish that is grilled on a skewer and served with a variety of sauces. The most popular sauce for this dish is yoghurt sauce, but you can also find it served with a tomato sauce or a mint sauce. The meat is marinated in a variety of spices and then grilled to perfection. Serve with a side of rice or couscous and you've got a meal that will satisfy even the most hearty appetites.
Conclusion
If you're looking for an amazing culinary experience, Morocco is the place for you. The food is rich and flavorful, and there's something for everyone. Here are the top five Moroccan foods you need to try in your lifetime. And if you're looking for a truly authentic experience, be sure to check out our culinary experiences.