Food Experiences
From: €20.00 ( price per person )
Enjoy a delicious traditional meal served in the comfort of your Riad.
Description
A trip to morocco cannot be separated from an immersion in the culture of food. The culture of food is rooted in the millennial history of morocco, in its inter-racial variety and with all the nuances due to the incredible climatic and environmental variety, passing through the high peaks of the Atlas, to the Mediterranean coast, up to the deep Sahara. A series of conditions that offer us an exciting mix of flavours, aromas and culinary surprises.
Twenty years ago when we arrived in morocco we were immediately fascinated by Moroccan food, we are Italians and the culture of food is something that belongs to us deeply. In our journey, we have tried to rediscover all those typical and traditional dishes that can now be eaten only if invited to a Moroccan house, a journey through totally organic products, in search of quality local products starting from extra virgin olive oil, produced on our land in the Essaouira region and on the gentle slopes of the Atlas Mountains in the Marrakech region. Your culinary journey starts from the delicious breakfasts where you can enjoy our delicious homemade jams, up to the unforgettable dinners on the terrace with specialities created to satisfy your every taste.
Make your meal unique
You have the opportunity to choose from a huge variety of meals to taste, we love seasonality and therefore we rely on the one that offers the season and the market, as well as for fish especially in the Essaouira region, in this way we aim to offer an eco-sustainable cuisine linked to the rhythms of nature.
To offer you the best of our cuisine, please contact us here on the site in order to create a tailor-made offer for you.
Our kitchen offers traditional Moroccan specialities, Italian dishes, vegetarian and vegan dishes and menus for celiacs.
Additional information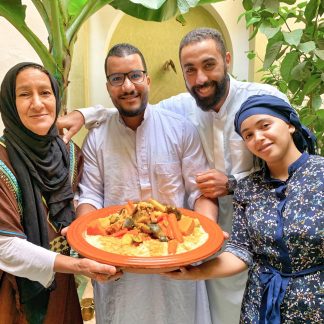 You're viewing: Food Experiences
From:

€

20.00

( price per person )
Read more