Description
Nestled in the heart of Medina, this beautiful Moroccan house opens its doors to travellers since May 2019.
Featuring 5 ensuite bedrooms, an open patio (Riad), hammam, living rooms and a rooftop terrace overviewing the old city, Maison d'Horme is the perfect spot to enjoy the Red City Marrakech.
The Medina is a great choice for travellers, interested in monuments, street markets and souks.
Only 800 meters from the Central Square ( Jamaa El Fna), Souks and all the major Marrakech's amenities.
Other things to take in consideration:
We are in Medina (old town) and cars are not always allowed to drive.
The closest parking is Douar Graoua, but we honestly suggest to park your car near the central Square Jamaa El Fna
Our Suites
Red Suite
This double suite is located on the ground floor and can accommodate 3 guests.
Find out more
Green Suite
This double suite is located on the first floor and can accommodate 2 guests.
Find out more
Yellow Suite
This double suite is located on the first floor and can accommodate 5 guests.
Find out more
Blu Suite
This double suite is located on the first floor and can accommodate 4 guests.
Find out more
Suite with Hammam
This double suite is located on the rooftop and can accommodate 2 guests.
Find out more
Additional information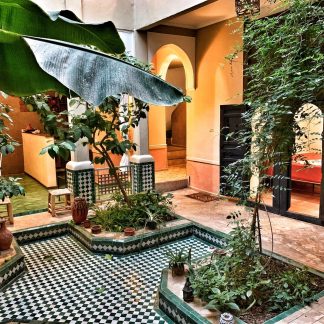 You're viewing: Dar Maison d'Horme – Marrakech
Read more