Riad-Restaurant Beldy – Essaouira
Riad Beldy a few steps from the sea lulled by the sound of the sea waves.
Description
The riad Beldy is located a few steps from the main entrance of the medina, the structure dates back to the end of 1500 and was renovated in 2020, in the restaurant on the ground floor you can still admire the ancient original stone walls.
The riad offers double and family rooms, all differently decorated and each with its own identity.
On the ground floor a restaurant offering delicious Moroccan and Italian dishes with a wide choice of fish that arrives daily from the local market.
On the top floor a wonderful terrace that offers a view of the city and the Atlantic Ocean.
Our Suites
Triple Suite on the terrace
This triple bedroom is located on the top floor and  can accommodate 3 guests. This room has direct access to the roof top.
Find out more
Double Suite on the terrace
This double bedroom is located on the top floor and  can accommodate 3 guests. This room has direct access to the roof top.
Find out more
Five guests room whit mezzadine
Spacious suite located on the second floor, this room can accommodate 5 guests.
Find out more
Spacious double bedroom
Spacious double bedroom located on the second floor, it can accommodate two guests.
Find out more
Triple bedroom whit mezzadine
Spacious triple bedroom located on the second floor, it can accommodate 3 guests.
Find out more
Four guests bedroom whit mezzadine
Spacious suite on the second floor, it can accommodate 4 guests.
Find out more
Double bedroom whit 2 single beds
Located on the second floor, it can accommodate two guests.
Find out more
Triple bedroom
Located on the first floor, it can accommodate 3 guests.
Find out more
Suite bedroom
Spacious suite located on the first floor, it can accommodate two guests.
Find out more
Additional information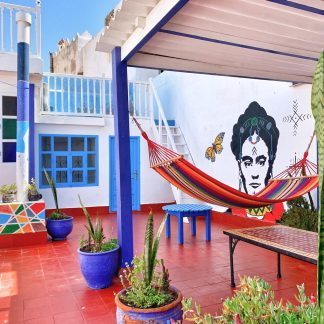 You're viewing: Riad-Restaurant Beldy – Essaouira
Read more